Eternity's Touch Catalogue Eternity's Touch Pricing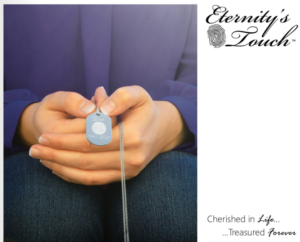 Once your loved one is brought in to our care we will electronically record their unique fingerprint. Once on file, you may wish to select a keepsake from the attached catalogue. Eternity's Touch offers fingerprint jewellery, cremated remains jewelry, glass keepsakes and so much more. While the catalogue to the left is helpful, once we have recorded the fingerprint you will receive a unique pin that will direct you to a specific website providing pricing and customization options. With options starting at just $104.00 we feel there is something available for everyone.
If you have any questions, please reach out.