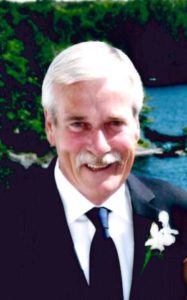 Following a courageous battle with cancer, Will passed away quietly at home on September 9, 2020, surrounded by his family and dearest friends at the age of 67. He is survived by his loving wife Cherryl, daughters Emily (Jon), Mary (Scott) and stepdaughter Crystal (Jamie). Grandsons Crosby, Quinn; Eli, Leo and Oli. Sister Joy, sons Doug (Stephanie), Matt (Carollyn), Jake (Lisa) Aunt Yvonne, Uncle Ron and Families.
Predeceased by his mother Peggy (1926-1990), father William (1916-2001) and brother-in-law Doug Currie (1947-2014).
Will was an amazing husband, dad, grandad, brother, uncle and cherished best friend of Bob, Jan, Gary and Cathy. He will be sorely missed by his beloved dog Murphy and all who knew him.
Due to Covid-19 restrictions a memorial service will be held a later date. Cremation and Celebrations entrusted with arrangements (519-963-4003).
Donations to the Children's Wish Foundation would be appreciated by the family.