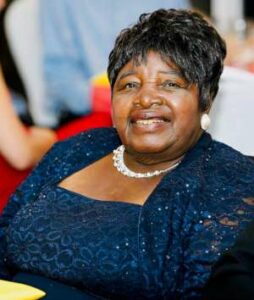 It is with heavy hearts that we announce the sudden and peaceful passing of Ambuya Esnath Gwanyanya, aged 88, at University Hospital (London, Ontario) due to natural causes. Wednesday, February 10, 2021 was another regular day at home with her daughter Sarah, kubva Ambuya vaenda nengirozi dzekudenga vachisekerera havo. We may be mourning and celebrating her wonderful life, but most importantly, the angels are rejoicing as they welcome a gallant soldier of The Lord Jesus Christ.
Loving wife to the late Phineas "VaMazivazvose" Gwanyanya (2007). Beloved daughter of the late Sekuru Misheck and Ambuya Mary Matenda. Darling sister to Jamieson, Enias (late), Agnes, Deliwe, Senzeni and Makaita. Cherished mother to Maxwell, Sarah, Sophie, Selida, Emmanuel, Susan, Lillian (late), Godfrey, Sostina, Mashoko (late), Takawira (late), Mandizvidza (late), Synthia and Manson. She was an amazing Ambuya to several grandchildren and great-grandchildren. Esnath was also a friend, confidant and spiritual mother to many. Her presence and influence will be deeply missed, especially the wisdom she imparted on us all – her most revered phrase of wisdom was "Siya So!"
From a very young age Esnath loved the Lord, faithfully serving as a member of the Methodist Church (Matenda Assembly) and later as a member and Elder at ZAOGA/FIF (Ascot-Gweru and Matenda Assemblies). A courageous Christian warrior on her knees in prayer, Esnath fought for multitudes in the Body of Christ – she was renowned for her answered prayers which have been famously dubbed "Minamato yaGogo!" She will always be remembered as a prayer warrior with a soft disposition that exuded peace, kindness, faith forgiveness and above all, Agape Love – 1 Corinthians 13.
A private family celebration of Esnath's life will be held on Wednesday, February 24th at 10 AM EST. Burial at Mount Pleasant Cemetery, London, Ontario. Though the service is private, the family invites you to join from the comfort of your home. Stream the service live or at your convenience by visiting facebook.com/cremationandcelebrations
Hatina Musha Panyika
Hatifare Kuva Pano
Zvinofadza Mweya Yedu
Kutsvaga Musha Unouya
Kutsvaga Musha Unouya
Hatina Musha Panyika
Tinoda Musha Uri Kure
Zita Rawo iZion
Unopenya Nguva Dzose
Unopenya Nguva Dzoe
Musha Une Runyararo
Vafambi Vachazorora
Dai Ndine Mapapiro
Ndaiuya Ndizorore
Ndaiuya Ndizorore
Mweya Wangu Chinyarara
Mwari Anoziva Nguva
Ndichaita Sekuda Kwake
Iye Wondipa Zororo
Iye Wondipa Zororo
In an effort to connect with all of the family and friends back home in Zimbabwe a virtual visitation will be held for INVITED guests. Visit https://meet.google.com/wij-rhby-wdw beginning at 9:30 AM EST.