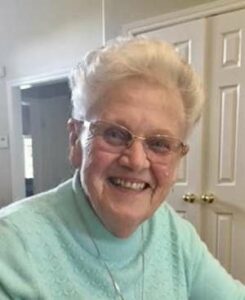 Marie Merrithew passed away peacefully on June 9, 2022 in her 83rd year, in Palliative Care at University Hospital in London, ON following a short illness. Predeceased by her parents, Ottie and Vera Gallagher of Fredericton, NB and her husband, W. Frederick Merrithew, also of Fredericton, NB in 2007, Marie is survived by her younger siblings – sister, Mae Goold (Ron) of Alberta and her brother Dale Gallagher of Lincoln, NB; her three children of whom she was very proud – Deb Owens (Joe) of London, ON; her son Michael (Louise deGrandpre) of Toronto and her youngest daughter Connie Merrithew (Kevin Deeprose) also of Toronto. Marie loved her three terrific grandsons– Jason Merrithew (Maegan Fell) of Oakville, ON; Patrick Merrithew (Katie Anderson) of Perth, Australia and David Merrithew (Hope Kearns) of Toronto. She also had four great grandchildren – Archer, Casper, Clementine and Avery; all born during the Pandemic and her greatest regret was not being able to be more a part of their lives.
Marie had a passion for anything related to Needlework – particularly her weaving which she studied at the NB Craft School in Fredericton. She loved to sew, embroider, do needlepoint, petit point, and knit and tried challenging herself with every project she attempted. She loved getting together with friends for Bridge, Cribbage, a meal or just a glass of wine or a good scotch.
When she was able, she enjoyed traveling – living in Saudi Arabia for a period was one of the highlights of her life and she toured most of Europe. As her physical health and her eyesight declined; a fall and a broken wrist in March of 2020 and the onset of the Pandemic, she was unable to enjoy her passions and lost her zest and enthusiasm for living. She will be sadly missed.
A special thank you to her friends and the staff at Fox Hollow; the ER unit, the Cardiac Unit and the Palliative Care Unit at University Hospital for making her life as happy and comfortable as possible.
A celebration of Marie's life is being planned for Fox Hollow in London, ON and again later in Fredericton, NB during the summer where she will be interred at the Forest Hill Cemetery. Arrangements entrusted to Cremation & Celebrations, Arva (519-963-4003).
In lieu of flowers, a donation to the London Health Sciences Foundation – Palliative Care Unit would be appreciated.