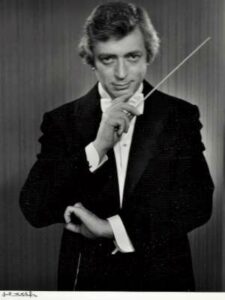 Maestro Hans Bauer
November 29, 1935 – February 10, 2023
"He raised three children. He'd done his best!"
Our love for animals and the beauty of life, we owe to one very special and eclectic man, our father, our Papi, our Opa(pa). We sadly lost him at the ripe age of 87. He led a long and very passionate life, and loved nothing more than sharing his fanatical hobbies, interests, and obsessions with his children (from his 2nd marriage to Sharon); Carla Maria Teresa (Joel), Maja Paola Elizabeth (Bill), and Franz Ferdinand (Jen), and his six grandchildren; Torsten, Timo, Mason, Jack, Weston, and Milla. We owe our love for classical music, orchids, horses, dogs, cats, saltwater aquariums, arts, and sciences to him. While it was not always easy for his family to navigate the challenges that were thrust upon us with his dementia diagnosis, we were blessed that he could leave this beautiful world on his own terms, knowing who his children were and that they were in his presence to support his very peaceful passing.
Our father was pre-deceased by his parents, six siblings, and 1st wife (Luba). He leaves behind a large family in Europe. He remained spiritually connected with his nieces (Hertha, Erna, Regina, Ilona, and Jolantha) and nephews (Matthias and Johannes), and their many children.
To his students he was known as Mr. Bauer, the Austrian immigrant, accomplished violinist, and world-renowned conductor. He accumulated a long and impressive CV that included time spent studying at the Juilliard School of Music in NY, appearances as guest conductor for the Royal Philharmonic in London, among many others, and was recipient of prestigious awards, including the Harrogate Violin Competition in England at the age of 13. He passed on his musical prowess through his passion for teaching over the years both privately, and within the Musical Faculties of Wilfrid Laurier University, Conrad Grebel University College, and Western University.
There are many to thank for his exceptional care over the last several years. Our family's heartfelt gratitude is extended to the outstanding teams at Highview Residences London, and Richmond Woods Retirement Living. We always appreciated knowing our father shared his witty sense of humor with all who were graced with his presence during this stage of his life.
In Keeping with our Papi's wishes, cremation has taken place. Arrangements entrusted to Cremation & Celebrations, Arva (London) (519-963-4003). In lieu of a visitation, which our Papi would never agree to, our family is kindly asking, if possible, to join us in providing a donation to the Alzheimer Society Southwest Partners, in his memory, to add much needed support for families navigating dementia with a loved one.
We will all miss our very special 'stubborn Austrian'!