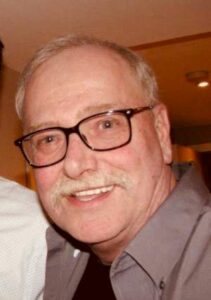 "That's it. I'm going to bed."
Passed away at LHSC – University Hospital with his family by his side on Sunday, November 13, 2022 of London at the age of 71. Loving husband of Kitty (Dolomount) Gray for over 45 years. Proud father of Jennifer and Jake Lehmann, Lisa and Daryl Munro, Tyler and Celia Edell, and Kyle Gray. Adored grandpa of Henry, Josie, and Heidi. Dear brother and brother-in-law of Dave and Joanne Gray, Darlene and Brian Brumwell, Brian and Jo-Ann Dolomount, and Paul Johnson. Fondly remembered by many nephews, his niece Amy, and the extended Dolomount family. Predeceased by his parents David and Madeline (Buckingham) Gray, parents-in-law Reg and Lorna Dolomount, his brother Bruce Gray, sister-in-law Karen Johnson, and his best friend/uncle-in-law Henry Dolomount.
Rick was a dedicated employee of Canada Post for over 35 years. He was a proud Union Steward, writing in the union newsletter on a regular basis, keeping humour in the information he was delivering. He had a passion for all kinds of writing; poems, short stories, op-eds, and personalized Santa letters for his children and family friends. Recently he enjoyed helping his oldest son Tyler with song writing.
In his spare time he enjoyed both playing and watching golf, playing billiards, baseball, hockey and in his younger years, football. Rick cherished his time as the boys baseball coach in their earlier days too. He and Kitty loved their many retreats to Wasaga Beach, and squeezed in some travelling when they could. They travelled from coast to coast, once in an RV with the whole family plus a few more. After retirement, he and Kitty made the trek across the world to visit their daughter in Australia. Rick and family loved spending many weekends with their life long friends Kim and Sam Bell and their family. As you could imagine, Rick provided the entertainment wherever and whomever he was with.
Above all, he was a devoted husband, a proud father and even prouder grandfather.
A come and go celebration of Rick's life will be held at Haskett Funeral Home, 223 Main Street, LUCAN on Saturday, November 19th from 3 – 5 PM with words of remembrance at 3:30 PM. Cremation arrangements entrusted to Cremation & Celebrations, Arva (519-963-4003).
Donations to the Canadian Cancer Society, Canadian Mental Health Association or Diabetes Canada would be appreciated by the family.