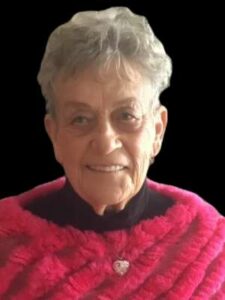 Our world lost a beacon of love and joy on Friday, August 11, 2023, when Millie McLaughlin passed away at Kensington Village in London, Ontario. Surrounded by loving family, she finally succumbed to her long battle with cancer, and she has moved on to the waiting arms of God.
Mille was born in Montréal, Quebec on October 30, 1935 and was raised in Two Mountains (Deux Montagnes), Quebec. There, she married her loving husband, John Richard McLaughlin, in 1957, and they raised three beautiful daughters, eventually moving to Brockville in 1970. Millie was known by her community for her work with the Catholic Women's League, Meals on Wheels, and Loaves and Fishes. Her passion for mentoring young women found many opportunities during her time working as a Girl Guide Camp Commissioner. She also ran a flourishing dog grooming business for many years, and we all remember her love for God's creatures. Her friends and family recall her amazing abilities as an active sewer, crafter, and seamstress, as she dedicated many hours to quilting and bear-making – and to passing on these skills to all who were interested.
Millie was predeceased by her husband of 53 years, John Richard McLaughlin, and is survived by their three daughters, Pam (Patricia) McLaughlin, Sandra Pinto (Fernando Pinto), JoAnne Tyler (Kevin Tyler), as well as her six grandchildren, their spouses and their nine great-grandchildren: Teresa (Jeremy Cowan) and her children, Leala, Kenadee, Thea, and Ella; Lindsay (Alex Weir) and her son, Victor; Chris Tyler; Lisa (Mike Keith) and her sons, Zealand and Cali; John (Jennifer Tyler) and their daughters, Aliyah and Emma; and Brookes Skinner.
In her final years, Millie resided in the care of Kensington Village in London, Ontario, where she received spectacular care and love. There are not words enough to describe our thanks and appreciation for the nurses, staff, and support staff at Kensington; in particular, we would like to recognize Chris, the Recreational Director.
Grandma Millie will be inurned at Roselawn Memorial Gardens on Friday, September 8, 2023, in Prescott, Ontario. She will be long missed for her unique "isms" and many coined words, her spicy attitude, and forever being known as a Spring Chick! Our Millie will spend her days in eternity in the embrace of loved ones gone before her, and she waits for the day we will all be together again. Until that day, her spirit remains close by, guiding her loved ones on our journeys.