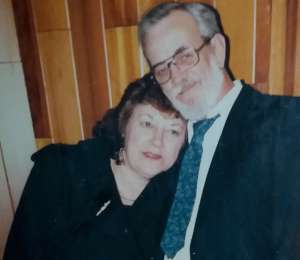 I've been reading the obituaries for many years, always checking for mine, as Lesu did. Finally, today is the day! On the eve of Saturday, July 16, 2022 I chartered the last flight of my spectacular 87 years here on earth.
I may no longer be with you but my undying love endures for and with my son Michael (Janice), my daughter Patti (Brian), my son Peter, grandchildren Breehan, Matthew, Nathan, Jacob, Melissa, Kathryn, their partners as well as my great grandchildren Sofia, Blake, Aidem and Ben. My heart is also with my sister-in-law Ange Wenechuk.
I shared some very special time with my family over the past years and I hope that every lingering moment created a lasting memory and brings a smile through your tears. I enjoyed countless hours and days with you as well as with my many nieces, nephews, their children, cherished friends and neighbors in London, Maitland Valley and Bayfield.
I am once again together with my beloved husband Lesu, my daughters Jackie and Sandy, my parents Anton and Daisy Wenechuk as well as my siblings John (Marg), Helen (Pat), Fred (Pearl), and Rudy, and Les's parents, siblings and spouses.
As there is in every life I experienced my share of challenges, but was very fortunate to enjoy so many wonderful years living at 109 Cavendish Cres, to be surrounded by family who loved deeply, work at Northern Telecom and retirement years of travel and happy times at Maitland Valley.
Lesu always said I had a horse-shoe you-know-where, but really, I think it was the whole damn horse!
Now quit bugging me!!
A heart-felt Thank-you to all of the doctors, nurses and staff at the Stratford General Hospital and Jessica's House in Exeter, ON where Mom spent her final days, for your loving care and compassion.
A Celebration of Life will be held at the Royal Canadian Legion, Branch 109 (Goderich Legion), 56 Kingston Street, GODERICH on Friday, August 12th from 2 – 5 PM. Cremation arrangements entrusted to Cremation & Celebrations, GRAND BEND (519-963-4003).
If considering donations in Mary's name, family asks and appreciates donations be made to Jessica's House Residential Hospice in Exeter, ON, or charity of your choice.