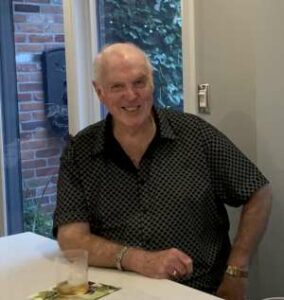 Robert Thomas Putherbough passed away at St. Joseph's Hospice in London on Wednesday, May 10, 2023 after a hard fought battle with cancer.
Bob was born in London, Ontario on September 11, 1938. Predeceased by his wife Helen Elizabeth "Liz" (2022), mother Mabel Beatrice (Carrothers) and father Thomas Herbert. Bob is survived by his children Stephanie Walsh (Graham), and Stephen Putherbough (Sandy), adored grandchildren Emily, Julia, Amanda, Allison, Brittany, and Cole and great-grandchildren Blair, Nolan, and Riley, twin brother and best friend, William Putherbough and many nieces and nephews.
Bob was a dedicated employee of the T. Eaton Co. for 33 years where he touched the lives of many. Bob was a very loving and generous person. With his kind and gentle nature, you instantly opened up to him and within 10 minutes, he would know your life story. Together, he and Liz loved to travel with different friends, but above all, they cherished their time with their family.
Cremation has taken place. A private family interment will be held at Mount Pleasant Cemetery in London. A celebration of Bob and Liz's life will be held at a later date.
In lieu of flowers, donations to St. Joseph's Hospice in London would be greatly appreciated by the family.
The family would like to thank the wonderful staff at St. Joseph's Hospice and the many healthcare professionals for their care and compassion shown to Bob.