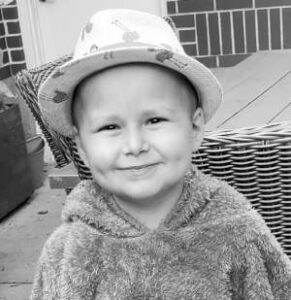 On Monday, January 25, 2021, held in the arms of one of the many people who loved him, surrounded by the ferocious love of his family, and with the 20th Century Fox theme song playing in the background, Toby left this world, at the tender age of 4. While devastated, his family acknowledge that it was time for him – with his quirky sense of humour and the twinkle in his eye – to complete his earthly journey and reconnect with those waiting for him on the other side.
Toby was an inspiration and purpose to his mom Lindsay (Bloch) and his dad John Seitz. He was the little brother and constant entertainer of Evan Bloch.
He will be missed dearly by his grandma and grandpa Teresa and Michael Bloch, who both will be lost without their daily smiles, floor games, and the chance to hear what might come out of Toby's mouth next. Wrapped around his finger and the bringer of books and crafts, and usually the instigator of mischief was his aunt Erin (ReeRee) Bloch. Together they shared a unique connection that was full of gentle jabs, daily visits, and irreplaceable memories. Toby's special bond with his cousins Ryan and Cameron Brooks will not be forgotten. He will be remembered fondly by his grandparents Brenda Seitz and Skip Epps, and his many aunts, uncles, and cousins. Everyone in the Bloch, Brooks, and Seitz families will miss the smiles and laughter Toby brought to them.
Toby made an impact on the lives of all he met. He taught them to laugh at the little things, smile through the hard things, and that family is the most important thing of all. He battled his health for more than half of his life, but he would not allow his struggles or limitations to become his legacy. Toby will be remembered as a little guy with a big personality (with a super cool flamingo hat to match), a lover of scary movies and their characters, and a curator of some of the most unique and entertaining video clips available on YouTube. While the thought of his departure is unbearable, it is abundantly clear that the spark he added to the lives of those he touched is worth the heartache they feel today.
While the list of incredible people that consistently went above and beyond their call of duty is abundant, sincere and special appreciation is extended to: Dr. Marta Wilejto, Dr. Alexandra Zorzi, nurses Jessie Wong and Lisa Pearlman, the Oncology and Transplant teams at SickKids, Toronto, the remarkable humans at Children's Hospital, London – PMDU and 6th floor, Auntie Chelle, and Rev. Bill Ward.
Donations to the TLC Foundation or Childcan would be appreciated by the family.
And, just at the moment when someone says, "There, he is gone,"
there are other eyes watching him coming, and other voices
ready to take up the glad shout, "Here he comes!"